SENIORS (35+) TOURNAMENTS
To enter a Seniors (Veterans) tournament all players must be members of a tennis club (eg Otumoetai Tennis Club) and also members of Tennis Seniors Western BOP (annual sub $20) or an equivalent Seniors branch. Minimum age is 35 although some tournaments have higher minimum age limits.
2019 TENNIS SENIORS RESIDENTIAL CHAMPIONSHIPS
SINGLES – held at tauranga Lawn tennis Club on Sunday 23rd June
DOUBLES– held at Otumoetai Tennis Club on Sunday 7th July
COMBINES – held at the Gate pa Tennis Club on Sunday 21st July
Click HERE for an entry form.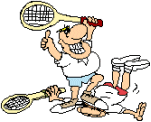 See our tournament HERE on the TNZ Tournaments pages for entries and results